Goethe Institut Kachari – 60 Years Anniversary
Digital Calligraffiti travelled in December 2017 to Pakistan to meet one of its initiators Hamza Abu Ayyash. Hamza alongside with Schriftzung aka Lorenz Oppitz and Sanki King presented an exquisite live performance to celebrate 60 Years of Goethe Institut, Kachari in Pakistan.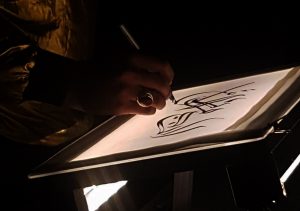 Through a series of activities and showcases: Live Infl3ctor Performances, Networked Performances, Urban Media Art Campaign, Digital Calligraffiti Products & Workshops the project climbed on the top of the the audience favourites travelling overseas and enlarging its community of collaborators and artists.
Public Art Lab and From Here to Fame Publishing House took pride in presenting the project in Pakistan last December as a perfect closing to a perfect first year of the project's creation.
Artists
Team
Partners